Tänä vuonna on ollut poikkeuksellisen paljon punkkeja.
Koirista olen ottanut onneksi vain muutaman, kiitos omasta lammesta, jossa ne voivat uida metsälenkin jälkeen. Punkit huuhtoutuvat turkista pois ennen kuin ehtivät kiinnittyä ihoon.
Kissoissa sen sijaan on ollut punkkeja enemmän kuin koskaan. Kallesta otin yhtenä päivä viisi (5) niitä kun edellisenä päivänä olin ottanut kolme (3). Leevillä, joka ulkoilee Kallea enemmän, on jostain syystä ollu vähemmän. Kuitenkin punkkeja löytynyt ihan liikaa.
What is the best way for us to fight ticks?
Last year I bought Scalibor collars for dogs and Serestot for cats. However, when the dogs swam, so did this year Serestot.
My choice is a collar.
The collar can be easily removed if there are problems and the dog shampoo for washing. If you take Bravecto pill and exceptionally it becomes a side effect, so you can't take it off. The same problem is with nasal solutions. You are married to them.
Removing the collar may not solve the problem, but at least the substance that is causing the problem is out of the dog and will not get more of it. It can be "paused".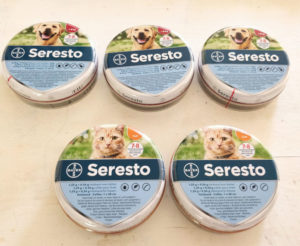 Safe tick control
For the reasons mentioned above, I consider tick collars to be the safest way to combat ticks.
We have been using Scalibor and Seresto. Both well tolerated.
Alfie received her last summer 2017 Bravecto pill due to her ears (I couldn't swim her) and she didn't have any problems with it. I guess it comes less often, but do you want to take a risk? And how about exposure for longer? So every year for such: what does it do? Nothing for many, but I don't want to take the risk either. When you give the pill, you can't get rid of it.
There seems to be no experience with herb pans. A vague memory that Mira might have had. However, when Mira was alive, the mite situation in 1988-2002 was different. Can't compare.
For a long time we here on land worked our own big pond to control ticks. Every time after the run I put the dogs there for a swim and the orcs got a ride. Yes, it would still work, but you should always make the dogs swim and then the floors should be wiped off even if there are carpets on entering.
The price of tick collars
Tick collars 3 x dog and 2 x cat cost € 166.80 from my court supplier when transported home.
Koirien Seresto pannat: 32.95€/kpl
Seresto collars for cats: 26.50 € / pc
A total of € 151.85 + collection on the front door € 14.95 = € 166.80
Change
When Scalibor collars are put on dogs, they will initially shine for a few days whitish white around the dogs neck. So I saw black smooth-haired retrievers.
Seresto on the other hand are gray, so it doesn't shine at any point like Scalibor. Lose from time to time with your dog so keep occasionally checking to see if it's there. It is.
In the image below, the collars stand out.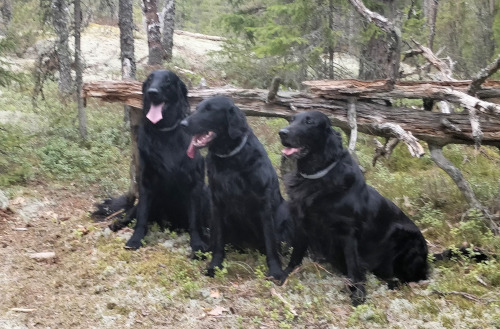 Goats and ticks
There have been goats on the farms since 2009. Do goats have ticks?
Snow Guild, I have found the one and only tick goats. It was stuck in the uterus and dead. Had milk milkers had come instead of blood
Otherwise, I haven't found ticks in goats. Apparently their skin is such that the mite cannot dig into it.