Flatit
Smooth-haired retrievers since 1988.
My first flatt, Mira, came in the summer of 1988. That has been commendable enough since then. I have not repented for a moment.
In 1993, Mira got a friend from England, a flat girl named Niki.
Mira lived a long life until the age of 14 until 2002.
In the summer of 2004 England became my second flatt girl from Ella Belsud kennel. Unfortunately, Ella lived to be just over 2 years old and left in November 2006.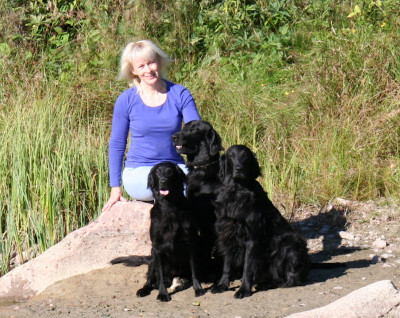 In 2006 came two flat males: Eddie came from England and Alfie from Norway. Cousins to each other; as a grandfather in both Belsud Brown Guinness. 
In December 2009, I was still looking for a Minnie girl from England. 
In 2012, I went to loved ones a half years trainer training bark on.
In October 2014, Eddie & Minnie received a family addition and Hanie stayed home from this.
In February 2018, great grief arose when Alfie went on his last trip at almost 11 years of age so flat, typically due to a tumor (lungs).
At the end of June 2018, it was time to say goodbye to Eddie, who reached a great age of 11 years and just over 2 months on the flat. Eddie had something extra to feel for her stomach.
The boys came to replace Mickie, for whom Alfie would have been a great-uncle.
In addition to dogs, I have cats, goats and chickens.
There are currently two boy cats: Leevi and Kalle. My previous cats Lotta and Elmo left us in 2017.
There is also an exceptional situation with regard to goats, when there are only two of them. Nuppu, born here, and his friend Aavi. Both born in 2011. 
The goat of my life, Snow White, headed for eternal pastures in December 2019 when a fist-sized tumor was found on it. In January 2019, Aino left unnecessarily early. Hilla (Nupu's mother) left in 2017.
Currently, there would be room for one or two goats.
Goats and dogs jog together in the woods. At the same time, goats also enjoy healthy forest products.
I started blogging about my dogs in July 2005 (about 15 years ago). Stuff about dog life as well as other home bipeds on land.
I founded On FB Flat coated Retrievers a page with over 13,000 fans. There, I share dog-related articles as well as web postings that are the most popular of them. The post where Alfie stands seems to be the most popular and it has collected closer to 90,000 screens and about 700 divisions.
I also founded flatcoats a group of more than 5,000 members. There, members actively share content, sharing pictures of their own dogs.
My dogs have too Twitter account with a few funny followers. My blog posts are automated there, and updates on FB's Flat coated Retrievers page also go automatically to Twitter.